RAINCOMBI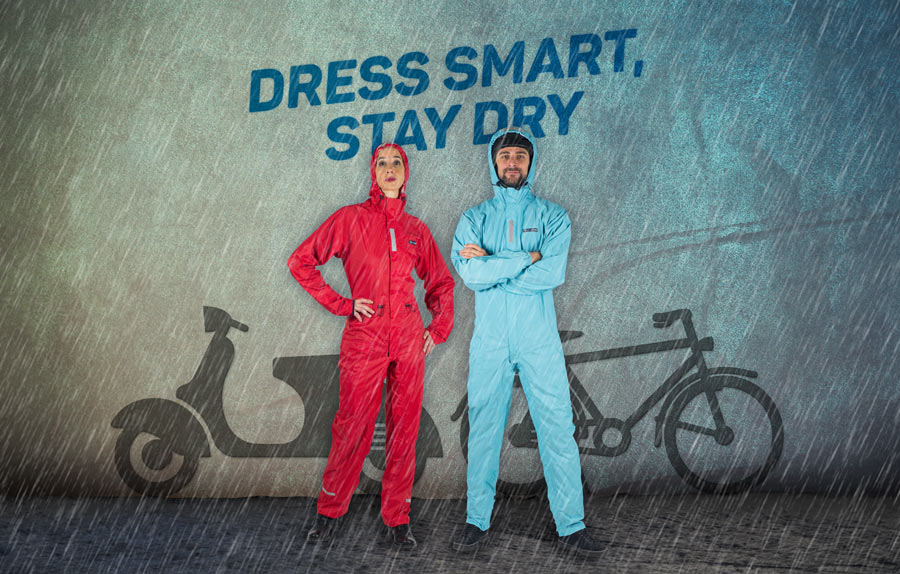 Stay dry, enjoy your life to the full, even if it's pouring outside. RAINCOMBI makes it possible. Put on quickly, without taking off your shoes, RAINCOMBI protects the whole body from water and wind. The innovative rain overall was designed especially for cyclists. Its optimised cut for extra mobility, small weight (app. 430g) and pack size make RAINCOMBI a perfect rain gear also for Hiking, Nordic Walking and other outdoor activities.
The model RAINCOMBI Overall Parka is particularly suitable for city life and commuting: The waterproof parka is the embodiment of city chic. And when it's time to ride back simply undo the zip on the back to let out the trouser legs and there it is, your protective all-weather overall. The model RAINCOMBI Overall Sporty features a sophisticated side-venting system for more comfort during demanding dynamic activity.
Both models being patented, RAINCOMBI overalls are breathable, water- and windproof. Besides, RAINCOMBI is produced according to high ecological standards. It is made in EU using eco-friendly European materials. The Swedish functional fabric is fluorine-free and impregnated with an eco-friendly Bionic-Finish® ECO. RAINCOMBI is produced by a Czech cooperative which specializes in functional wear.
Enjoy the cycling season all year long thanks to the quality rainwear made in Europe. RAINCOMBI is the embodiment of this vision.